Beryllium Production Based on TPU Technology will be Launched In 2019
Tomsk Polytechnic University and «Rare Metals of Siberia» Scientific and Production Association completed the first stage of the project on the development of the first beryllium production in Russia - said Alexander Dyachenko, TPU Vice-Rector for Research and Innovations. Start of the first stage of beryllium production based on technology developed in TPU is scheduled for late 2018 - early 2019 in Krasnokamensk, Zabaykalsky Krai.
According to the Vice-Rector of Tomsk Polytechnic University, the world's beryllium ore extraction is carried out in two countries: the USA (90%) and China (10%). Since 1989 Russia had stopped beryllium ore extraction. Now beryllium production exists in three countries: the USA, China and Kazakhstan. Needs in beryllium of Russian manufacturers are satisfied only by means of secondary resources and import.
According to Alexander Dyachenko, in Russia there are a lot of large beryllium deposits and it is possible to solve the problem of import substitution and entry into the global market, as well as take up to 1/3 of the world beryllium market.
«Beryllium extraction is planned on Ermakov deposit in Buryatia, then the ore will be transported to Priargunsky Industrial Mining and Chemical Union in Krasnokamensk, where enrichment and production of beryllium oxide and hydroxide will be carried out. In 2017, we plan to design production, in 2018 - construction, and at the late 2018 - early 2019, I hope to invite you to cut the red ribbon at the enterprise.
Tomsk Polytechnic University is a scientific supervisor of the project. It is very efficient cooperation: when the research institution develops technology, the educational institution trains staff, and all this is supported by the state».
- Said Alexander Dyachenko.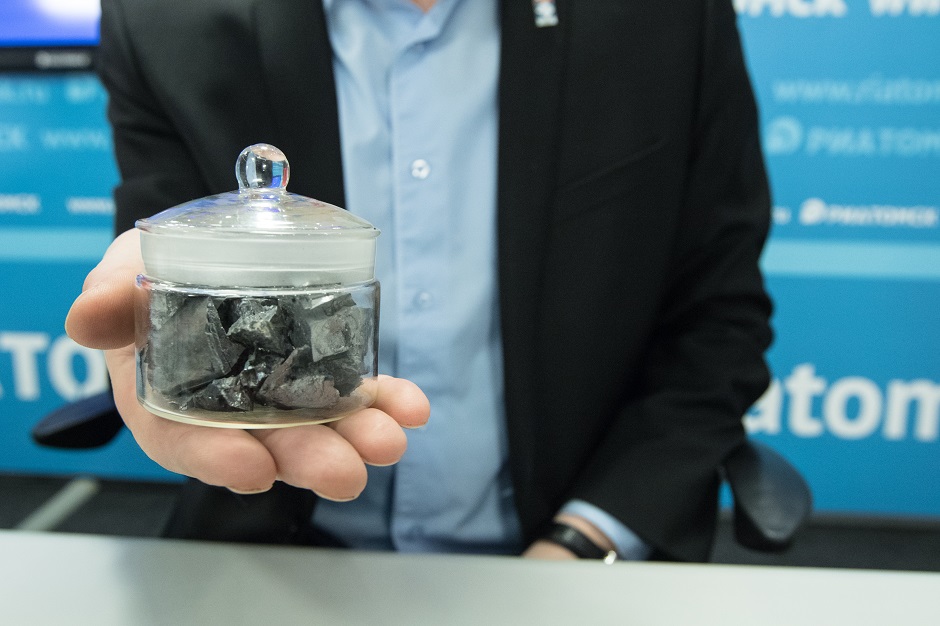 Photo: First beryllium produced using TPU technology.
The technology was not developed at Tomsk Polytechnic University by chance. The University has great experience in training staff, performing research and design works in the field of rare metal industry. According to the Vice-Rector, the Department of Rare, Scattered and Radioactive Element Technology has been engaged in this studies for more than 50 years.
According to Roman Kraydenko, the Head of the Department of Rare, Scattered and Radioactive Element Technology, TPU technology is designed for the processing of domestic raw materials in contrast to the US analogue.
«In the USA beryllium consists in silicate compounds, and Russian raw materials are high-fluoride with up to 25% of fluorine compounds, it was the main reason to develop a new technology. The technology focuses on the use of domestic high-fluoride materials. We offered some new approaches to processing concentrates using fluoride compounds».
Reference
Beryllium is a steel gray and hard metal that is brittle at room temperature and has a close-packed hexagonal crystal structure. It has exceptional stiffness (Young's modulus 287 GPa) and a reasonably high melting point. The modulus of elasticity of beryllium is approximately 50% greater than that of steel. Other significant properties are high specific heat (1925 J·kg−1·K−1) and thermal conductivity (216 W·m−1·K−1), which make beryllium the metal with the best heat dissipation characteristics per unit weight. In combination with the relatively low coefficient of linear thermal expansion (11.4×10−6 K−1), these characteristics result in a unique stability under conditions of thermal loading. Unlike most metals, beryllium is virtually transparent to x-rays and hence it is used in radiation windows for x-ray tubes. Beryllium alloys are used in the aerospace industry as light-weight materials for high performance aircraft, satellites and spacecraft. Beryllium is used as an alloy with copper to make spark-proof tools. Beryllium is also used in nuclear reactors as a reflector and absorber of neutrons, a shield and a moderator.