Rector Petr Chubik congratulates on 121st anniversary of TPU
Rector of Tomsk Polytechnic University congratulates the university community on the 121st anniversary of the school.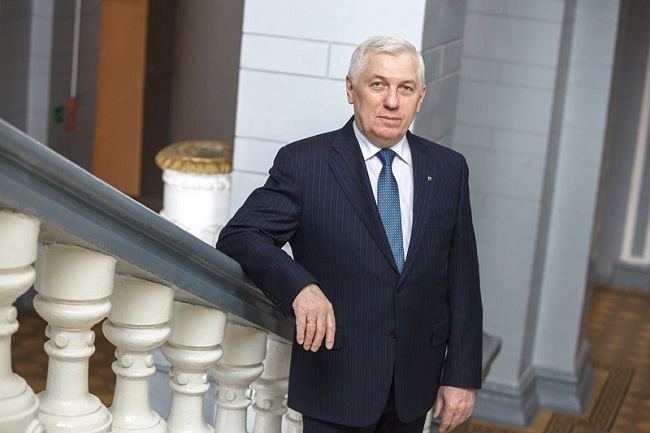 "Dear colleagues, students and alumni of TPU! I congratulate you on the 121st anniversary of our alma mater's birthday!
We are again on the eve of the date that emphasizes the 'passport' age of the first technical university in the Asian part of Russia. It is important that our ever young, dynamic and born for the best prospects university in its aspirations towards the future is based on fundamental principles that do not change for the sake of time. This is our careful preservation of the traditions of an engineering school, readiness to strive for new achievements in academic and scientific domains, constant increase and strengthening of the intellectual and material potential of the university and a professional approach to addressing challenges, no matter how complex.
---
We have no other way than a way of overcoming obstacles and building new paths, traced by the generation of pioneers, inventors, world-wide famous scientists even 120 years ago.
---
Nowadays, we confidently rank in the top 10 of national rankings, received a permanent 'residence permit' in world university rankings and made a breakthrough in QS Subject Rankings for the first time, having entered the group of the world's best universities in five subjects and a subject area at once. Due to the participation in the 5-100 Project, the integration into global research, large-scale modernization of the university campus, the formation of strategic academic units – 'enclaves' of truly cutting-edge educational programs, breakthrough developments and technology for key sectors of science and economy, our University acquires the real outlines of a world-class university.
As always there are many ambitious goals and objectives ahead, but without them there are no wins! We were convinced that system changes we apply are yielding fruitful results and this policy will inevitably lead our University to a new quality activity. Therefore, we act according to the plan and online – each of us has the right to influence the destiny of the University through own deeds and decisions, achievements and advancements. Each of us has a unique chance to be helpful for the University today, here and now.
---
Let's follow the advice of the wise and 'do what you can, with what you have, where you are'… We have everything to be strong and successful. TPU is our everything!
---
Congratulations, dear colleagues! Happiness, health and prosperity to you and your loved ones! What is more – excellent knowledge, bright discoveries and significant victories for the glory of the native university and our Motherland! Long life TPU!"
Rector of National Research Tomsk Polytechnic University
Professor Petr Chubik