TPU and RSC Energia launch master program in space materials science
On 16 May, Tomsk Polytechnic University and Rocket and Space Corporation Energia jointly launched a unique master program Technology of Space Materials Science.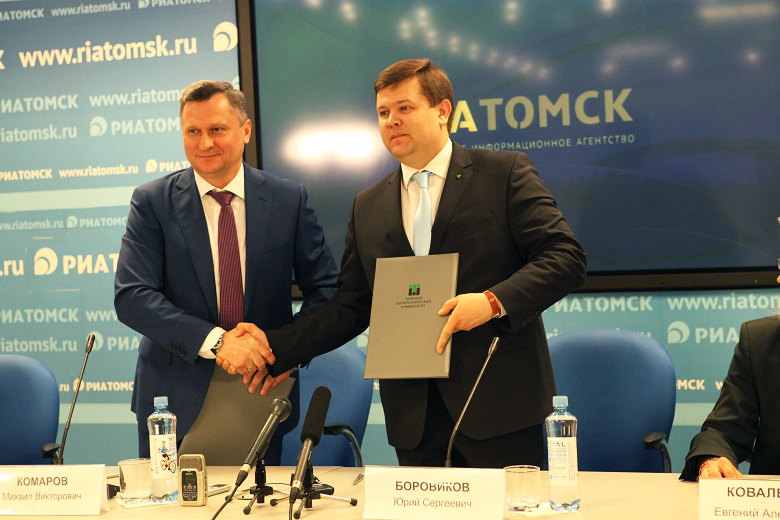 Yuri Borovikov, TPU Vice-Rector for Academic Affairs, said at a signing ceremony, 'It is the first program for space industry in Russia. Tomsk Polytechnic University always pays great attention to the practical component of educational process. The program was designed at the Institute of High Technology Physics in the framework of the Strategic Academic Unit Space Materials Science. Together with our strategic partner we plan to produce 'exclusive goods'.
This program is unique both for TPU and for the whole country as such.
As far as I know, there are no similar master programs. First students will be enrolled to this program in September 2017.'
Director for Human Resources and Social Policy of RSC Energia Mikhail Komarov confirmed that TPU was the first university in Russia to sign an agreement on academic cooperation. He added that the program's graduates will be involved in the strategic projects of the leading aerospace company.
'For instance, graduates will be engaged in the development of a modern manned transport system, in particular, the piloting of the Federation spaceship. The training program for the crew is expected to start in the nearest future. In addition, we have a lot of ongoing projects related to the construction and further development of ISS, - new nodes and modules – resulting in the development of ISS as the Russian orbit station, in case this decision will be approved by the President of our country,' explained Mr. Komarov.
The strategic cooperation agreement of TPU and Energia was signed in August 2013. Since then TPU partners have seen that the university has a strong scientific school and relationships with academic community.
'This is a united scientific and educational body with a lot of projects. Besides, we got to know the academic staff of TPU. It is of great importance who will educate young specialists. TPU has a wonderful faculty working with undergraduate and master students. We also read their high quality final theses.
Apparently, TPU can provide a breeding ground for specialists capable of implementing a strategic initiative of our country – to become a world's technology leader by 2035. They will turn Russia to the technology leader in the future,'
said Mr. Komarov.
The master's degree program Technology of Space Materials Science features a network approach in training specialists. It implies the involvement of leading scientists of the Institute of Strength Physics and Materials Science of Siberian Branch of Russian Academy of Sciences (ISPMS SB RAS) and leading experts from RSC Energia to deliver specialized courses.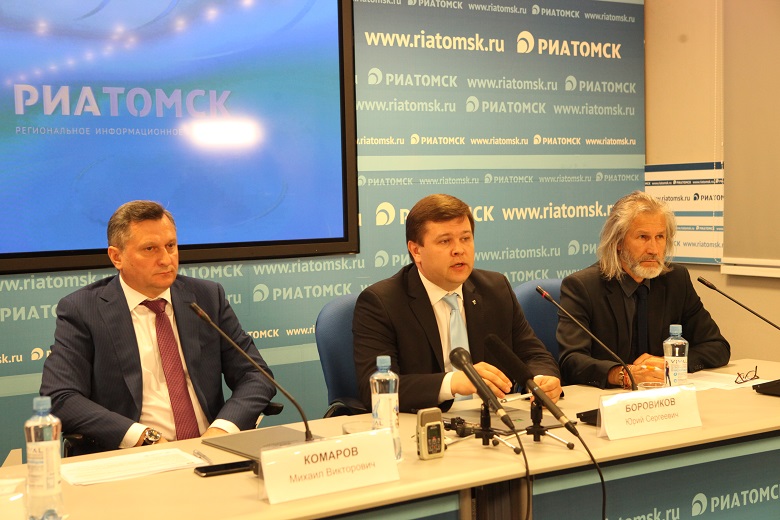 'It will be an interdisciplinary education, the Institute of Strength Physics and Materials Science will provide its facilities, laboratories and research fellows to implement the program. Great part of the program is devoted to gaining practical skills at the sites of the RSC Energia. Students are very interested in this new opportunity. The university and the company are going to admit both TPU students and best graduates from other Russian universities and CIS countries,' clarified Yuri Borovikov
'I' m convinced that master program with TPU will help us find super-talented employees to implement new, ambitious projects. Currently, over a thousand talented students are studying in our federal target programs at the best Russian technical universities. We need super-gifted students. We plan to look for such candidates in Tomsk, Samara and Kazan,' summarized Mikhail Komarov.