US researcher to tell the history of chemist Nikolay Kizhner
Professor David Lewis, Wisconsin University Eau Claire (USA), and his students arrived to Tomsk Polytechnic University to collect documentary materials about Professor Nikolay Kizhner - an outstanding chemist and one of the first lecturers of Tomsk Technological Institute.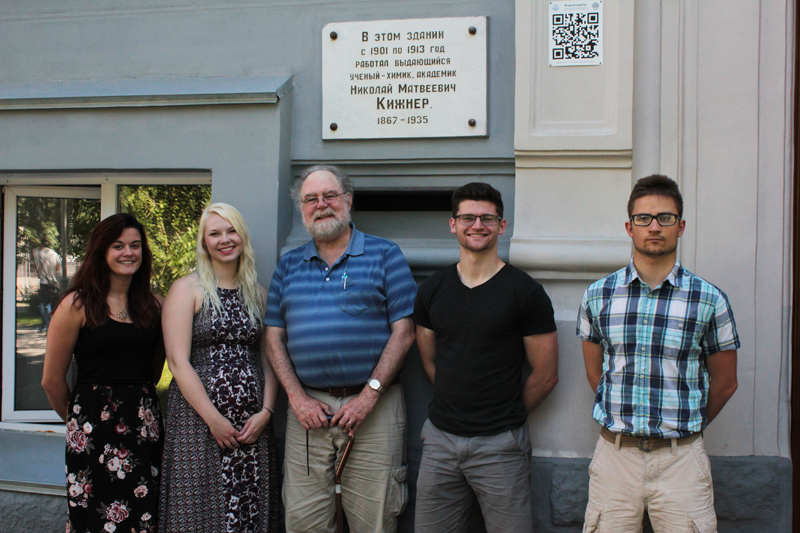 Photo: Prof David Lewis and his students at Nikolay Kizhner memorial table
Being a successful chemist himself Prof Lewis has been showing a lot of interest to the history of Russian chemical school. The area of his scientific research includes organic synthesis and applied organic synthesis. In the USA he holds 16 patents. Besides Tomsk, Prof Lewis and his team will also visit Kazan.
'In early 1990s I had to write a textbook on organic chemistry which described many named reactions – the reaction of Markovnikov and Zaitsev, Kizhner reaction and so on. I wanted to understand personalities of scientists that stand behind those reactions. In fact, reactions I taught during the first years of university were named after Russian chemists but we thought they were Germans. This was mainly caused by the fact that many Russian scientists published their articles in German scientific journals. Similarly, in the West the surnames of Russian scientists are often found in German transliteration.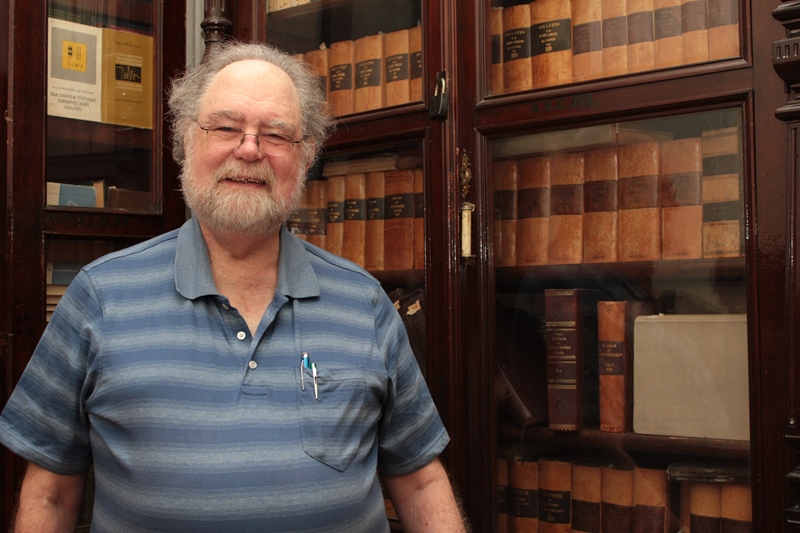 Photo: Prof Lewis got familiar with the Kizhner's famous library - scientific works of
world's scientists of the late XIX - early XX centuries
In the course of my work I got in-depth knowledge on Russian scientists and was impressed by enormous contribution they made to the development of organic chemistry. But all this information is in Russian and in the West it is not very well known,'
said Prof Lewis.
The American professor together with his students visited TPU laboratories and lecture halls where Nikolay Kizhner was working, saw archival photographs and documents.
'How can one neglect or show no interest in the history of Kizhner? He was a student of Morkovnikov and a brilliant chemist.
He had serious problems with health – spontaneous gangrene of the extremities. He was amputated two feet, fingers were also struck. But he kept working, achieving amazing results and teaching!' said the researcher.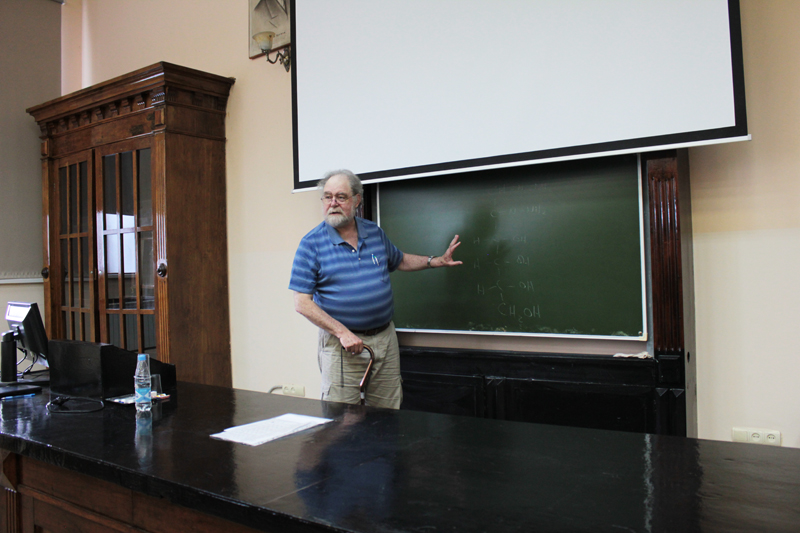 Photo: Prof Lewis in Small Chemistry Hall, TPU
In Tomsk Polytechnic University Prof Lewis found the trace of a very interesting document – a copy of Ludwig Wolf's letter with apologies to Nikolay Kizhner.
'It's about Kizhner-Wolf reaction. In the West it's called Wolf-Kizhner reaction. The fact is that Wolf published his scientific article 18 months later than Kizhner, but Kizhner's article was in Russian and therefore unnoticed. I was told that in his letter Wolf brought apologies to Kizhner and noted he was not aware of his work. I really want to get the letter. This is just what allows you to reveal faces of scientists,' shared Prof Lewis his impressions.
Materials collected in Tomsk will be later included in a great research work of Prof Lewis – a book on the history of organic chemistry in Russia, which alongside with the Soviet chemists will cover chemists of the XIX – early XX century.