Tomsk Polytechnic University made a quantum leap in the Times Higher Education World University Rankings
The Times Higher Education (THE) World University Rankings published the list of the world's best universities. Compared with last year Tomsk Polytechnic University made a quantum leap and entered the group of 301-350 best world universities having progressed by 200 positions. TPU is among the best Russian universities only falling behind Lomonosov Moscow State University and Moscow Institute of Physics and Technology. Last year TPU was in the group of 501-600.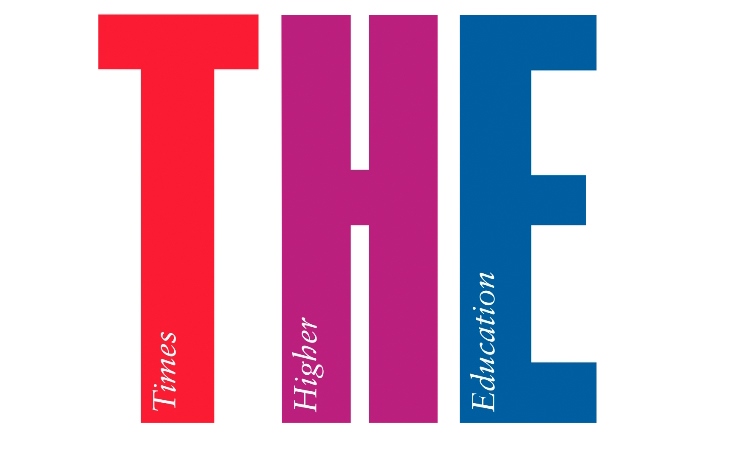 Tomsk Polytechnic University demonstrated the highest result in industry income and citations performance indicators. TPU rector Petr Chubik commented on the ranking results:
"This year we managed to make a quantum leap in the Times Higher Education (THE) having progressed by 200 positions and reaching TOP 3 among the best Russian universities with only MSU and MIPT being ahead. As far back as four years ago our university was not even included into THE, which is one of the most prestigious world university rankings.
TPU set a goal to reach the world level in education and research, and today we progressed a lot in this respect. Our main target was successfully achieved due to intense work of the whole TPU team, our persistence and consistence in implementing the Competitiveness Enhancement Program.
In our work we strongly relied on three major components: research, innovations and investments, where we achieved considerable results. It was crucial to set the right priorities since if, for instance, you deal with research and innovations, they should be bound to areas strongly demanded on the international arena. I believe that in the near future we have to make the best use of the entire TPU potential. Our university has successful ventures in space materials science, resource-efficient technologies, non-destructive testing, study of the Arctic and many others. Hence, we need to further improve our ideas and continue progressing in all these fields".
High positions in indicators reflecting industry income is largely attributed to the fact that TPU has strong partnership relations with the largest Russian companies among which are Rosatom, Gazprom, Roscosmos, etc. Quite recently Tomsk-TPU-120 satellite was launched to the Earth. This is the first Russian spacecraft made from unique materials and designed via 3D printing. The satellite was designed by TPU in collaboration with S.P. Korolev Rocket and Space Corporation Energia and the Institute of Strength Physics and Materials Science of SB RAS. Some other advanced technologies were implemented in this team, including 3D printing in zero gravity, which will be tested in 2018 at the International Space Station. Among other achievements there are also protective coatings for spacecraft illuminator glass, which have already been supplied to Energia Corporation.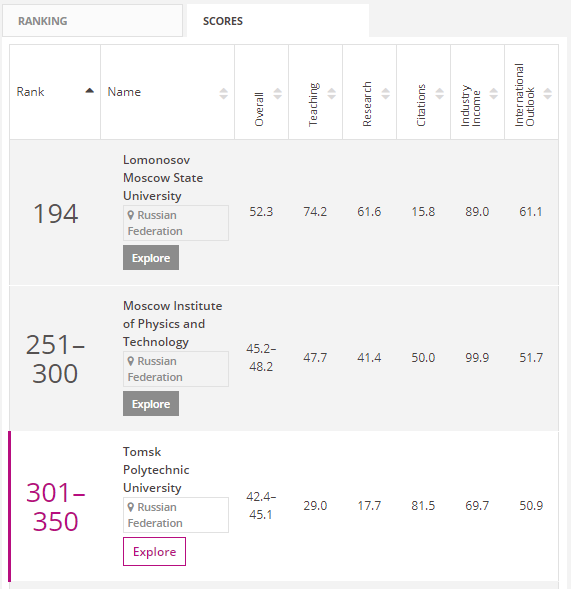 Photo: timeshighereducation.com
At present, TPU is the only producer of betatrons, which are small-size particle accelerators forming fluorescent X-rays. Industrial partners of the university apply such accelerators to control welding and casting quality and in inspection facilities used by customs services and border forces. Today, such facilities function in Malaysia and Singapore, and a few betatron-based facilities operate in China, as well as in some Russian cities as Sochi and Kerch.
For one of the largest Gazprom projects the Power of Siberia TPU developed a fault detector allowing to check the quality of welds not reducing the speed of pipelaying
Moreover, as THE ranking shows, TPU achievements in research become widely recognized by the international academic community. TPU scientists are being published in top-ranking international journals. TPU has its Pure Research Portal, which is a rich database covering the university outcomes in research, participation in projects and cooperation of its research teams. The portal users show the outstanding interest in the field of green technologies, synthetic chemistry, bio- and composite materials, plasma physics, etc.
To recap, the Times Higher Education World University Rankings (THE) is an annual world university ranking published by the British journal Times Higher Education, which is compiled together with the Thomson Reuters. Along with QS World University Rankings and Academic Ranking of World Universities (ARWU) the Times Higher Education is among the best three prestigious world university ranking, and joining the TOP 100 of which became the main target of 5-100 Project by 2020.