Prospects of e-learning at TPU
Representatives of the E-Learning Institute, as well as supervisors of educational programs and department chairs of Schools (former Institutes) of Tomsk Polytechnic University have established a program on the development of e-learning at the University. Innovations to implement in 2018 include identification of students taking online tests and development of a model of online component for the core program of basic engineering education. TPU educational process will also include online courses and lectures delivered by professors of world's leading universities. The university will launch three new mass open online courses (MOOCs).
The meeting initiated by the TPU E-Learning Institute was held within the session of the TPU Coordination Council for E-Learning Development.
'Our institute has advanced technologies in the field of e-learning, but these technologies should be properly implemented. On the one hand, they should assist lecturers, reducing their classroom load and, on the other hand, they should meet requirements of our students for which we try to develop new courses. It is also important not to forget employers who are interested in e-learning to improve the skills of their staff. Therefore, we invited to meet both the supervisors of educational programs, department chairs and lecturers who teach students and understand their problems very well in order to jointly decide which steps for e-learning improvement should be taken at the University,' said the Director of the E-Learning Institute Alexander Fadeev.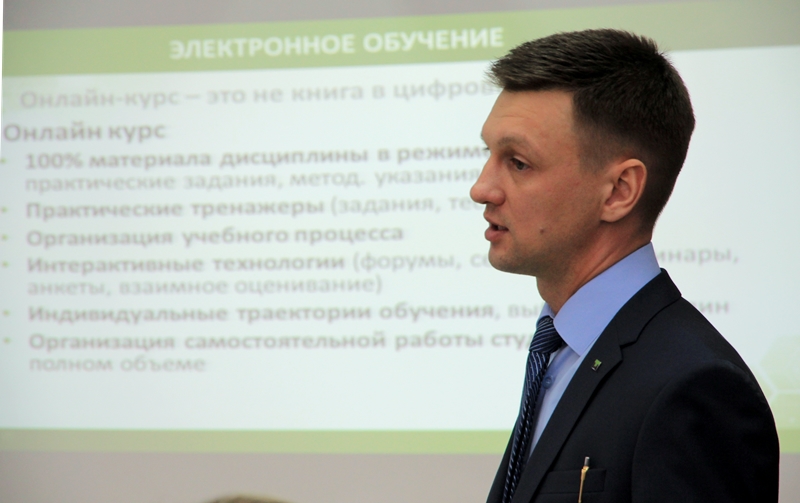 ---
The members of the Coordination Council discussed opportunities and challenges in transforming classroom lectures into online format.
---
It comes about the implementation of video lectures to replace common lectures, which can be used in blended learning and MOOCs, etc. The E-Learning Institute is going to actively involve TPU students for the development of online courses. Students will earn credits for their graduation thesis, academic and field practice, as well as the opportunity of part-time or even full-time employment. For lecturers it is planned to have a number of supportive measures (reduction of teaching load, indication of works in their effective contract or additional payment), because the development of online courses is not an easy process and takes from two months to a year.
'In the future, on the one hand, online lectures will become a good reduction of lecture hours for teachers; on the other hand, students will be able to watch such lecture at any time. This is much easier than listening to a material in big lecture rooms where it can be hard to hear lecturers or missing a lecture at all. Indeed, such lectures are intended for distant learning students. We designed a dedicated learning system for them,' – says Alexander Fadeev.
He notes that the main problem of the distant education is that students come to study only during the examination terms. During the semester only the most responsible students are engaged in the study process and their individual home assignments (IHA) can be easily purchased via Internet.
ELI Director explains: 'Our objective is to improve the quality of distant education. Therefore, we developed dedicated courses in Moodle for them. Starting this year, all first-year distant students have joined this system. Firstly, each week students should watch or read a lecture on each subject and answer test questions. Secondly, their IHA are divided into several tasks, mainly in four-seven items. Students access the next task only when teachers had checked a previous one. Unless students download the task and teachers evaluate them, next tasks are not available. In the coming year we will introduce a student identification system. This is a requirement of the Ministry of Education and Science too. The new system implies a web camera on the student's computer and administrators will see who answer the questions. Additionally, the system will monitor which websites and software are open on the display. Students won't access assignment if there is no web camera on the computer.'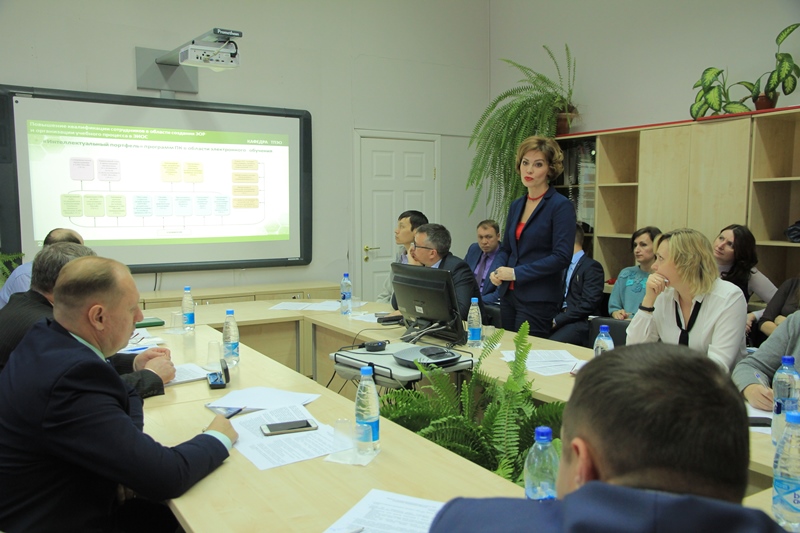 ---
Another planned innovation is the introduction of MOOCs and online lectures of professor from world's leading universities into the TPU educational programs.
---
'In the framework of the federal program Modern Digital Environment in RF our University takes part in the establishment of the Regional Center for E-Learning Competences. On the one hand, we share our expertise with other educational institutions; on the other hand, we are trying to adopt best practices of world's leading universities.
In the short-term the university will introduce educational course for core educational programs. They will help students to be aware of the most advanced technologies in the industry. Next year TPU expects to launch three new MOOCs.
Currently, we are engaged in the production of individual courses and MOOCs in two shooting pavilions at ELI,' says Mr. Fadeev.
---
It is planned to open a virtual reality studio to develop simulators.
---
You can learn more information about e-learning at TPU in the next issue of Za Kadry, which is a corporate newspaper.