TPU best graduates receive awards at Governor reception
In the Tomsk Drama Theater graduates with honors ('A' grades) from eight Tomsk universities were awarded in the presence of regional administration, rectors of all universities, and Tomsk employers. A graduates' ball annually takes place in Tomsk. This year graduates who are expected to earn honor degrees and who have achievements in scientific, social activities and sports were invited for the first time. The best university graduates of 2018 received insignia on which the patroness of students Saint Tatiana is depicted.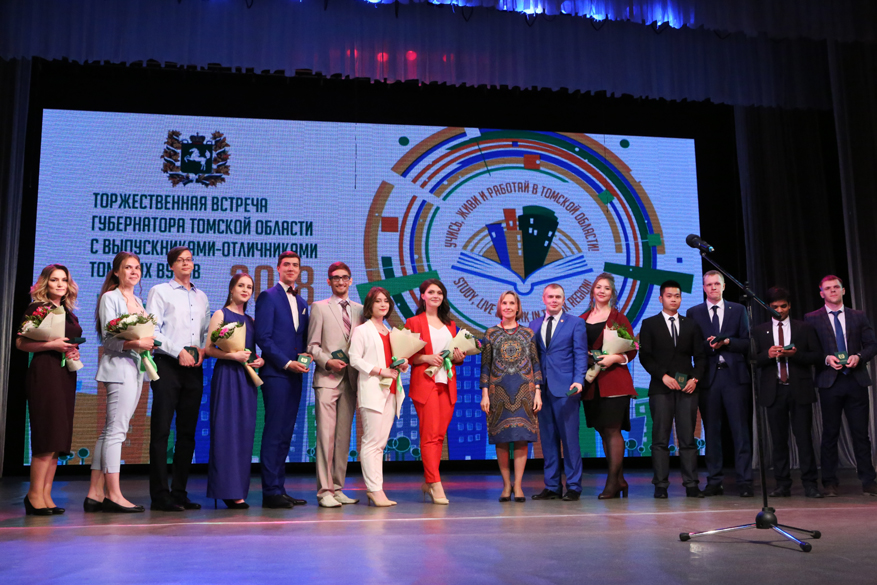 Deputy Governor for Scientific and Educational Complex of Tomsk Oblast Lyudmila Ogorodova addressed the graduates: 'Universities in Russia were established to train specialists for the whole country. However, we are glad that more graduates stay in the Tomsk Oblast to work. Today over 10 thousand students graduate from the universities, over 40 % of them will stay in our region. Best of the best, graduates with honors, the most skillful and gifted will develop our city, multiply our population, its authority and reputation. You got a start in life, but the most important is that you got the world's best Tomsk education.'
Tomsk Polytechnic University was represented by the assistant Alexey Suvorov from Division of Power and Electrical Engineering and the undergraduate student Tran Dinh Tan Xu from School of Earth Sciences & Engineering.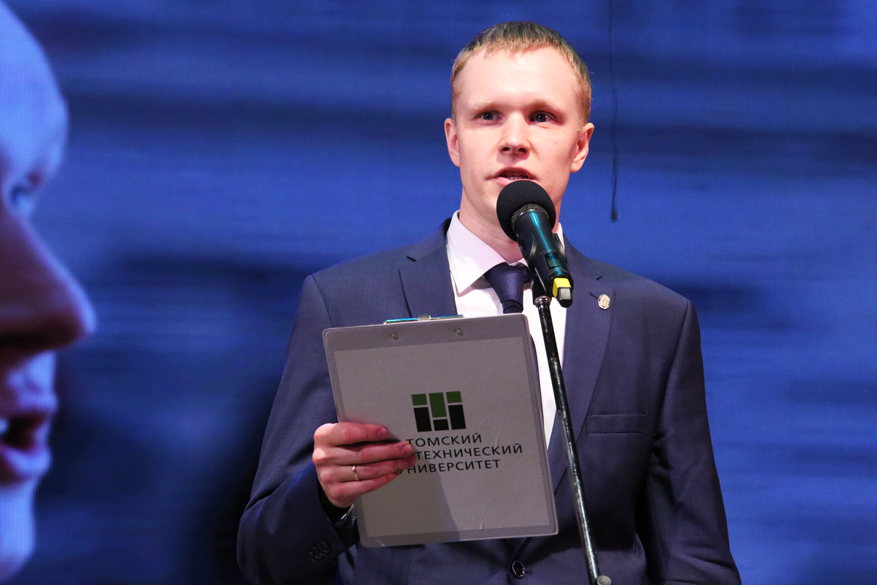 Photo: Alexey Suvorov
Alexey told that his way to TPU started after the nine grade of high school when he decided to enter TPU Lyceum. During his studies and work he became the laureate of the 2017 RF Government Prize in the field of science and technology for early-career scientists, the winner of the 13th All-Russia Youth Energy Research Competition, and the laureate of the All-Russia Competition Engineer of the Year 2017. Now he graduated from a PhD program at TPU, this autumn he will defend his PhD thesis and is going to stay in Tomsk to continue his research in the field of power plants and electric power systems.
'I believe that only metropolitan universities can rival Tomsk universities in the quality of education, prestige and innovation, and now being experienced in research activity, I can confidently say that TPU takes leading positions both in Russia and in the world,' said Alexey Suvorov.
He also noted that being at TPU he participated in scientific conferences, internships and events in many cities of Russia and abroad: Germany, Finland, the Netherlands, France, Sweden, and Estonia.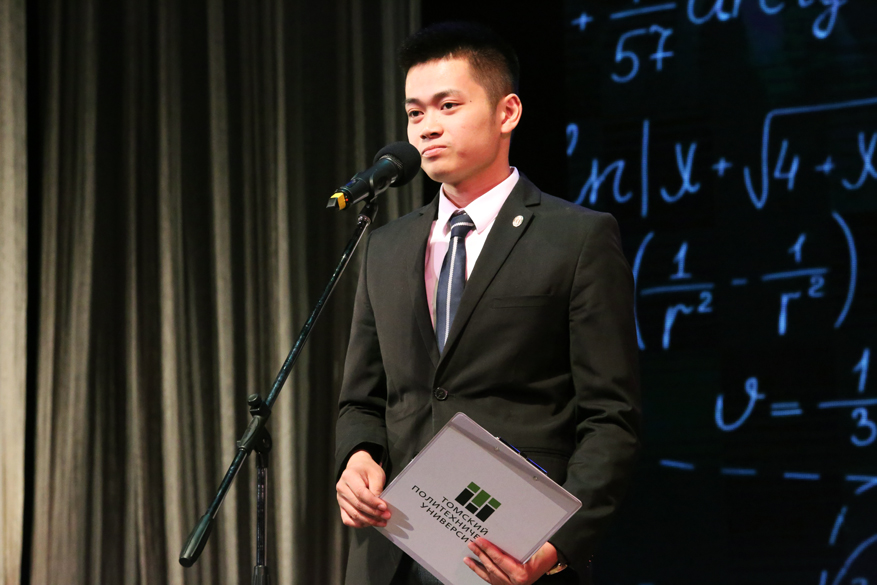 Photo: Chan Dinh Tan Sy
Chan Dinh Tan Sy came to Tomsk from Vietnam and recently has defended his bachelor diploma with honors on oil & gas.
'When in Vietnam I was told that my application had been approved and I would study in Tomsk, I was happy and afraid at the same time,' told the student. - I understood that I would give up my Vietnamese lifestyle, I expected culture shock and doubted that I could get used to Russian winter. But I realized very quickly that I gain an amazing experience in communicating with Russian and international students. Tomsk is an ideal place to study! The most important in Tomsk is that I can study at Tomsk Polytechnic University. This is one of the best universities in Russia where there are a lot of opportunities for personal development. TPU provides opportunities for development in academic, research, social activities and sports.'
During his study Chan Dinh Tan Sy received six times the increased academic scholarship for achievements in study and research. He is the winner of the Scholarship of Tomsk Oblast Governor 2016, the Filimonov Scholarship 2017, the laureate of the competition TPU Best Student 2017. For his achievements in research he received 23 diplomas at All-Russia and international conferences and olympiads, he is the author of two publications indexed by Web of Science. The international student plans to pursue master studies at TPU.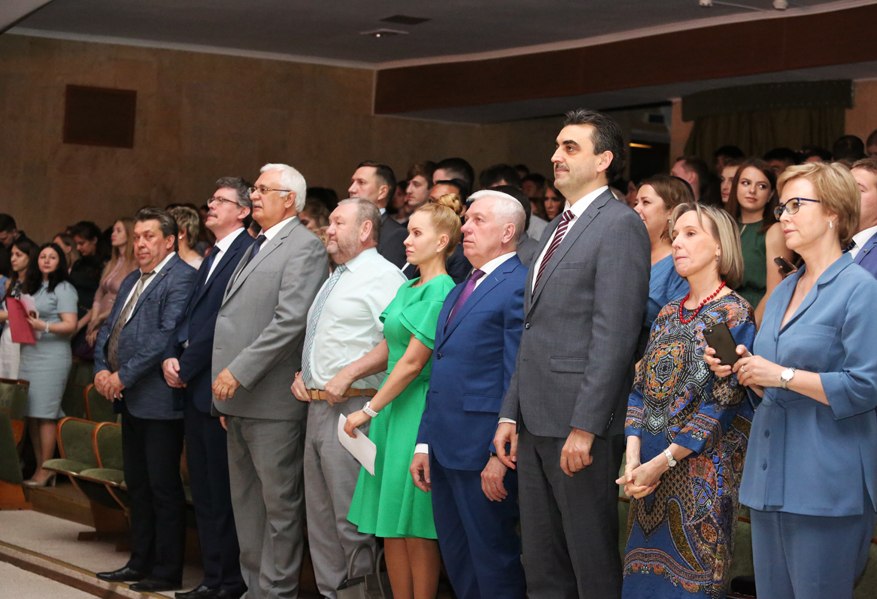 Tomsk honor graduates were also congratulated by the rectors of eight universities and representatives of large employers of the city and the region.
'You are ushering in an independent adult life, and this life is the most complicated problem which nobody has solved without mistakes yet. To make as less as possible mistakes you need to choose priorities which include your profession, your parents, your family and your friends. All of them should be a single whole. Dare, you will succeed!' addressed TPU Rector Petr Chubik to graduating students in his commencement speech.