TPU creates the largest ultrasonic robotic system in Russia to monitor ITER elements
LLC Intech, the TPU small innovative enterprise, signed a contract on the creation of ultrasonic robotic system to control the quality of elements of the thermonuclear reactor, which is currently being constructed in the south of France as part of the International Thermonuclear Experimental Reactor (ITER) project. In terms of scale and significance, this project is comparable to the International Space Station and the Large Hadron Collider. The university tomograph will be used to test the quality of the first wall of the reactor, a barrier separating the plasma from the remaining elements of the reactor. The work shall be completed by 2020.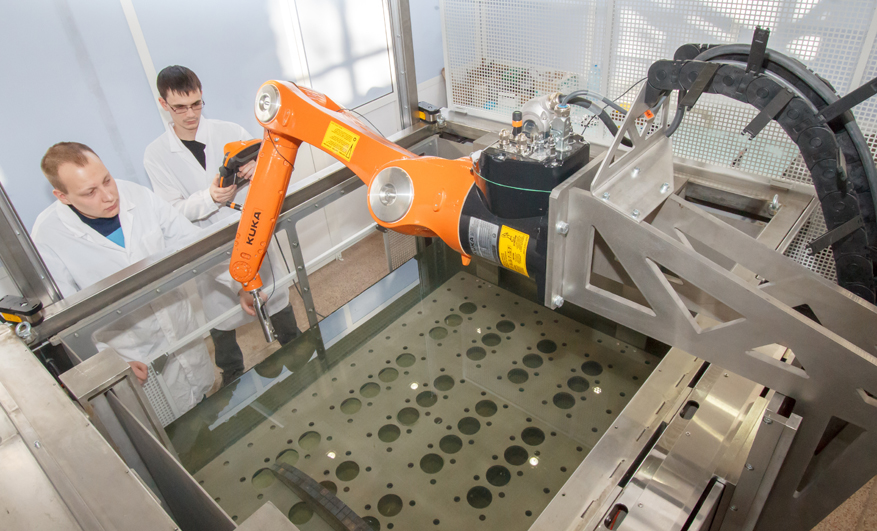 Photo: Laboratory sample of ultrasonic tomograph will be used in ITER project

"In 2014, we delivered a compact ultrasonic robotic tomograph for the ITER project. Nowadays, the task is to develop a larger device 2.5 m length, 2 m width and 1.5 m height and it is only a zone for placing an object.
At present, there are no similar large robotic equipment for ultrasonic testing in Russia and this project for us is a challenge requiring genuine engineering solutions",
— says Dmitry Sednev, acting head of the School of Non-Destructive Testing.
The ultrasonic method of nondestructive testing assumes that the waves, emitted by a transducer, pass through a material or an object and interact with its internal structure. This interaction is reflected in the backward waves. Analyzing them the experts can assess hidden defects and their characteristics.
"The ultrasonic system is a kind of tomograph for the ITER, which will operate according to our original scheme with a digital focusing grating thus making it possible to obtain accurate data on defect location and its size over the entire depth. This approach provides digital focus at every point of the volume", - says Dmitry Sednev.
This tomograph will be used for testing elements of the reactor first wall, particularly the dome, lid of reflection target, laser welded seam, and others.
The project is a successful example of commercialization of the university developments through its innovative belt of small enterprises", - adds Dmitry.
It is worth noting, that the contract was signed for 70 million rubles.
Reference:
International Thermonuclear Experimental Reactor (ITER) follows the principle of plasma confinement by a magnetic field. The ITER is built in the south of France at the Cadarache Research Center (Department of Bouches-du-Rhône, Provence-Alpes-Côte d'Azur). The ITER is based on the soviet tokamak technology, which is considered the most promising device for controlled thermonuclear fusion. The goal of the project is to demonstrate that the thermonuclear energy may be used on an industrial scale. The facility shall produce the first plasma by 2025. The project has brought together China, EU, India, Japan, Russia, South Korea, USA.