Representatives of large Vietnamese companies interested in water treatment, medicine, and educational projects of TPU
Yesterday, Tomsk Polytechnic University hosted a delegation of Vietnamese companies and organizations. It included leaders of the largest oilfield service enterprises forming the state-owned petroleum company PETROVIETNAM, importers of food, telecommunication and medical equipment, and a medical center in Hanoi. During the visit, the delegation showed interest in the educational and innovative potential of TPU and discussed the University developments.
The visit of Vietnamese companies was organized by the Tomsk Chamber of Commerce and Industry with the support of the Tomsk Oblast Administration, the Business Development Fund, and the Ministry of Economic Development of Russia as part of the entrepreneurship development program. Besides TPU, delegation also visited the regional administration, the special economic zone of Tomsk and the specialized small and medium-sized businesses.
TPU hosted the Deputy Director of Vegastar JSC (a large importer of telecom equipment, the company also has its clinic and a telemedicine center) Do Thi Thu Huyen, Major General Trinh Quoc Khanh, the head of the medical center at the police hospital in Hanoi, Deputy Director of PVD Technical Training & Certification JSC (an oilfield service company, a subsidiary of PETROVIETNAM) Tran Phuc Quan and General Director of CTY A. Sibiri Tran Van Tam (an importer of food from Russia).
Mr. Trinh Quoc Khanh emphasized:
'We know Tomsk Polytechnic University since it is a participant of annual fairs in Vietnam. We know that TPU is a large center of science and innovations.
Two major areas are of our interest. Firstly, this is water treatment and wastewaters disinfection. We need a complex technological approach at the affordable cost. These projects are sought-after among our population.
If TPU scientists are willing to help us in solving this problem, we will assist in searching for partner companies. Besides, the projects related to seawater and salt marshes are very relevant. Secondly, we are interested in projects related to power supply and environmental protection.'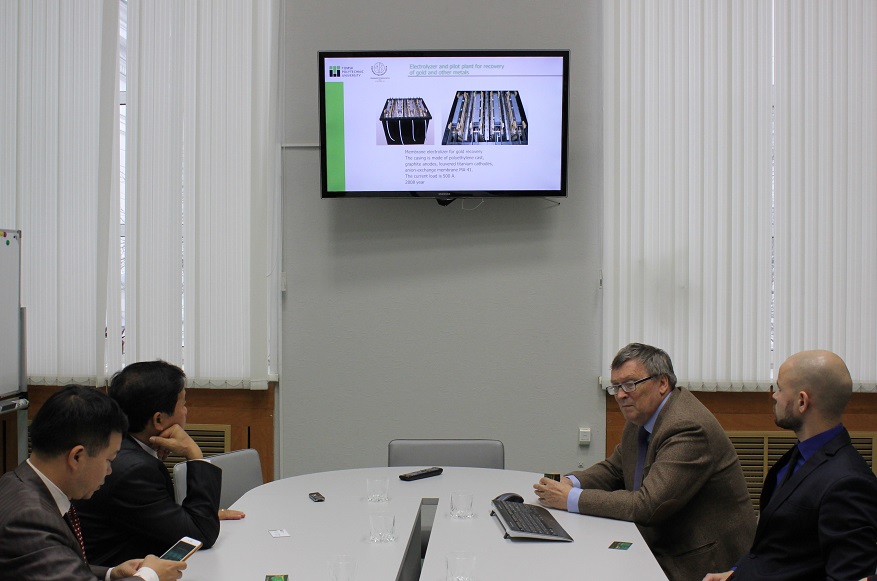 The Vietnamese delegation is also interested in telecommunication equipment, medical services and equipment for oncology, drug supply, staff training in different areas, polymer production and so on. During the presentation the representatives of the companies were able to learn more about TPU projects from the Laboratory for Pulsed-Beam, Electric Discharge and Plasma Technologies, Laboratory for Plasma Hybrid Systems and the Petroleum Learning Center.
'There is the Academy of Research and Innovations in our Ministry of Science and Technology. They really want to cooperate with Russian universities.
We are very interested in your projects related to the treatment of cancer diseases. We are searching for new treatment methods, new drugs etc. and we see that your university has great experience in implementing large scientific, technological and educational projects.
We are also interested in educational projects both for degree programs and further training of current specialists,' said Mr. Tran Van Tam.