Unique LED Lamps, Designed by TPU and Research Institute of Semiconductor Devices, are Tested in Tomsk
Energy-efficient LED lamps, developed by a research team of Tomsk Polytechnic University and the Research Institute of Semiconductor Devices (RISD), have been installed along Kuznetsova street in Tomsk. These field tests will last for six months. If this unique street lightning system proves its effectiveness, it сan be expanded to other streets of Tomsk.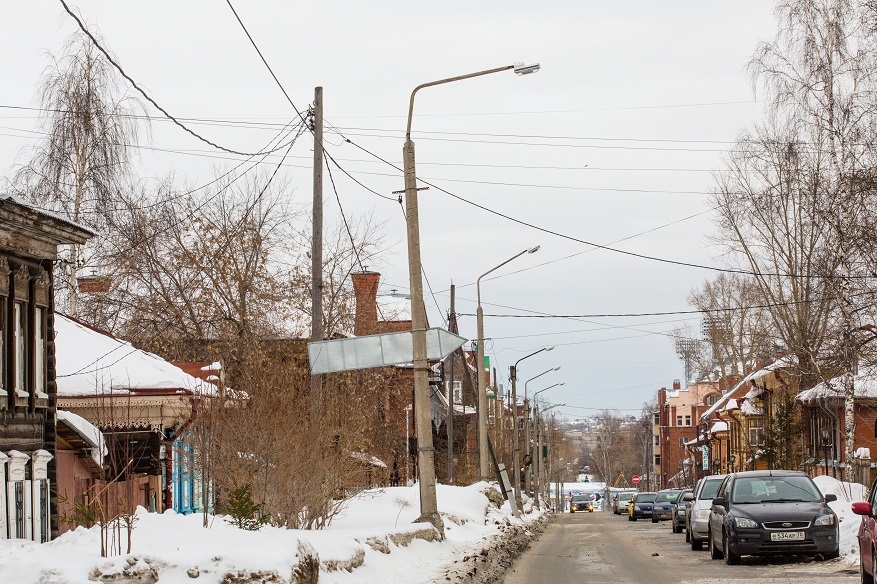 LED street lamps – SLED-Street-9, is among the outcomes of a large joint project of Tomsk Polytechnic University, RISD, TSU, TUSUR in the framework of the decree of the Government of the Russian Federation, implemented in 2010-2013. TPU research team was responsible for the development of lamp design and increasing their efficiency. As a result, RISD produces a line of LED lamps with a power from 40 up to 500 watts. They are designed to illuminate open spaces, parking lots, construction sites, parks and pedestrian areas, squares, roads, tunnels, bridges, industrial facilities, and buildings.
"We were solving a number of problems by developing these lamps: we tried to reduce their cost, increase efficiency, reduce energy consumption, and achieve the highest quality of color reproduction. The lamp body is made of aluminum alloy by extrusion, that way the lamps are much lighter than their counterparts. Moreover, extrusion is a convenient, cost and energy efficientway, which allows creating a line of lamps, varying their body length. Another advantage is their design features making it possible to avoid additional technological operations like painting and surface finishing. The front side of the lamps is made of optical impact resistant polycarbonate that is mirror optics, reducing the loss of luminous flux. In addition,we have been working on optimizing the lamp assembly technology together with our colleagues from RISD.
As a result, we have developed light devices with an efficiency of about 80% due to their design features, using mirror optics, and the correct formation of the light flux. Along with this, the cost of production is fairly low",
— says Alexei Yakovlev, director of the School of Advanced Manufacturing Technologies.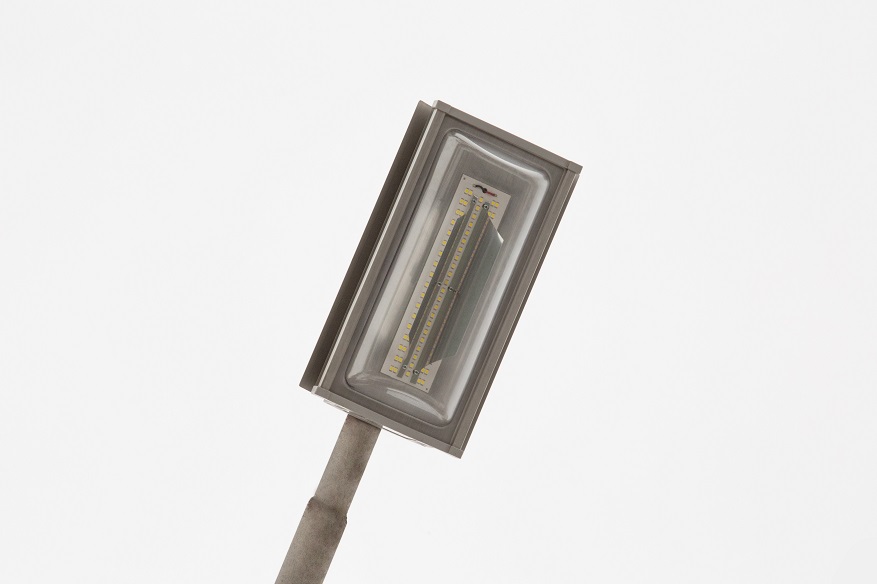 It is worth mentioning, that the lamps were tested in the joint test lighting laboratory of TPU and RISD. The lamps meet the requirements of the sanitary regulations and standards. The university research team tested the lamp operation modes to find a spectral composition that is the most comfortable for the human eye. According to Nikolai Bakin, head of the RISD Department for Development of Lighting Devices, the SLED-Street-9 lamps are being successfully used, including in petroleum fields, but it is their first appearance on the street of Tomsk.
"On the initiative of the city grid system office and under the municipal program Comfort Environment, one installed about 30–40 100 W luminaries in October 2018 on Kuznetsova St. Within six months, they will undergo pilot operation there. In March 2019, we will receive information on the effectiveness of their work.
Based on the results, one will decide whether to use SLED-Street-9 for the reconstruction of city roads",
— specialist underlines.
Last December, the School of Advanced Manufacturing Technologies of TPU analyzed the formation of light environment and light sources on Kuznetsova Str., where the mentioned lamps were installed., This work will be continued In February. "We propose to expand the use of such lamps to other streets of Tomsk to provide our city with energy-efficient lighting and to make Tomsk citizens feel more comfortable. In addition, better color rendering helps reducing the number of accidents since there will be fewer situations when a pedestrian does not notice a car and vice versa. Moreover, the light devices will not blind drivers on the roads lit by these lamps", - Alexey Yakovlev emphasized.
Reference:
Tomsk Polytechnic University and the Research Institute of Semiconductor Devices are strategic partners since 2010. In 2011, TPU and RISD established Test Lighting Laboratory, a second laboratory of such kind in Russia. The laboratory provides certification and quality control of LED devices, produced by RISD. As a co-executor, TPU invested 5.5 million rubles in the creation of the laboratory. Along with this laboratory, there is also a Design Center in RISD, which develops lighting systems, and an Education and Research Laboratory for Laser Technology.