Industrial partners to help TPU students develop competencies for successful employment
The first meeting of industrial partners was held at the TPU School of Nuclear Science & Engineering. Representatives from large enterprises such as JSC Siberian Chemical Combine (SCC), Mining and Chemical Combine (Zheleznogorsk), JSC SPC Polus and others participated in the event. Together with the School management, they discussed the main areas of interaction between TPU and the companies and outlined a number of issues to which the University can contribute.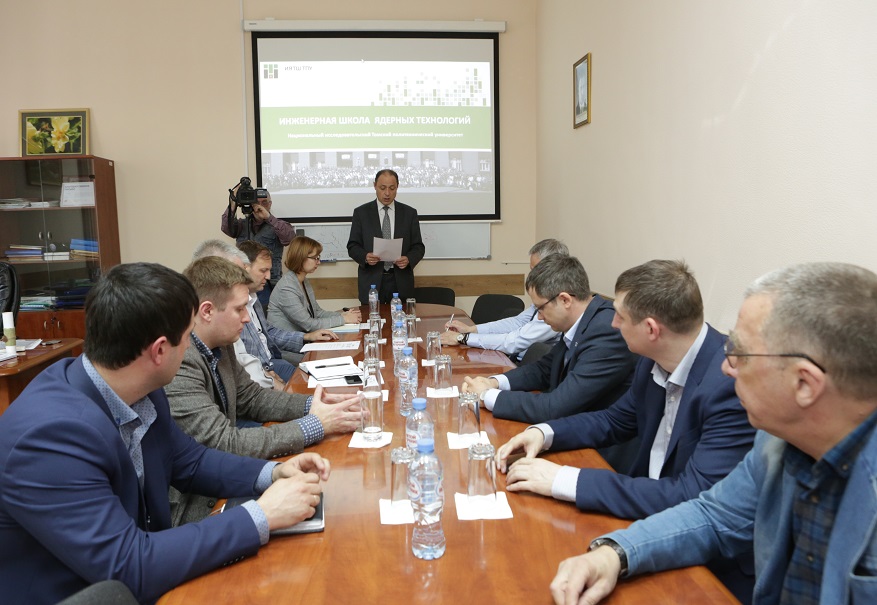 Director of the School of Nuclear Science & Engineering Oleg Dolmatov addressed the council members:
'It will be very difficult for the University to work without industrial partners in both education since graduates now need certain competencies that are impossible to teach without understanding employers needs, and grants and contracts. They increasingly require industrial partners. All you represent large enterprises that deal scientific and production tasks as well.'
The Council of Industrial Partners comprises 10 people. Among them are representatives of JSC SCC, Novosibirsk Chemical Concentrates Plant, Mining and Chemical Combine, Moscow Branch of Atomtechenergo, Polus and others. SCC Deputy General Director for Novel Technology Artem Murlyshev was elected the Chairman of the Council on the unanimous decision of the meeting participants.
Artem Murlyshev said:
'In my opinion, a roadmap for each enterprise should be compiled so that the School of Nuclear Science & Engineering can hear the problems of the companies. I can tell on SCC example. We are still interested in Tomsk Polytechnic University on isotopes. Besides, we are interested in nuclear medicine and radiopharmaceuticals. There is a certain shortage in the domestic market so it would be great to jointly establish a medical center on the territory of Seversk in order to combine TPU radiation capabilities and SCC competencies on radiochemistry and get into the next level.
We confirm these interests and will look for all possible ways to bring these ideas to the level of investment projects.'
He also added that SCC has other promising directions for cooperation with the School of Nuclear Science & Engineering.
Director Dolmatov outlined goals and objectives for the Council of Industrial Partners. This is participation in the design and updating of main and additional education programs, ensuring qualitative intake to all levels of education, the implementation of large projects for industrial partners, promoting cooperation with Russian and foreign companies in terms of commercialization and technology transfer of Tomsk Polytechnic University, etc.
'In addition to the above mentioned, unconditionally, it would be well that company representatives come and hold lectures for our students because it increases the competencies of graduates and encourages them for further employment at the companies. We have possibilities for targeted training, we can design individual curricular for students and introduce disciplines required for the company, including the involvement of your experts. The modern academic process provides enough opportunities to train 'pinpoint' specialists,' – emphasized the director of the School of Nuclear Science & Engineering.
Department Head Vladimir Matselya from Mining and Chemical Combine noted that the enterprise is facing a tremendous shortage of specialists and interaction with engineering schools can help fix this issue.
'Our needs for specialists is increasing, new production is being created at the enterprise. This is one of the main problems. Perhaps, to fix it, we will suggest organizing some kind of distant learning, on-site courses. As for specialties, we need technologists, technicians, dosimetrists, and physicists. We like the idea on roadmaps and we will form our tasks for TPU,' he said.