TPU Professor receives National Award Women in Science
According to the competition terms, the woman candidates should be PhD holders under 35, work in Russian research institutions and universities in the following spheres: physics, chemistry, medicine and biology. The main criteria are scientific achievements of candidates, significance and applicability of studies, and desire to continue a research career in Russia.
Photo: winners of the competition, E. Sheremet - fourth from left (L'Oreal press office)
The award ceremony was held in the Pashkov House (Moscow). Claudio Caviquioli, L'Oréal CEO in Russia and CIS countries, and Grigory Ordzhonikidze, Executive Secretary of the Russian Commission for UNESCO, greeted the women scientists.
"To expand the opportunities for women to be involved in solving global problems, we need to create conditions for women research career," - Claudio Caviquioli says.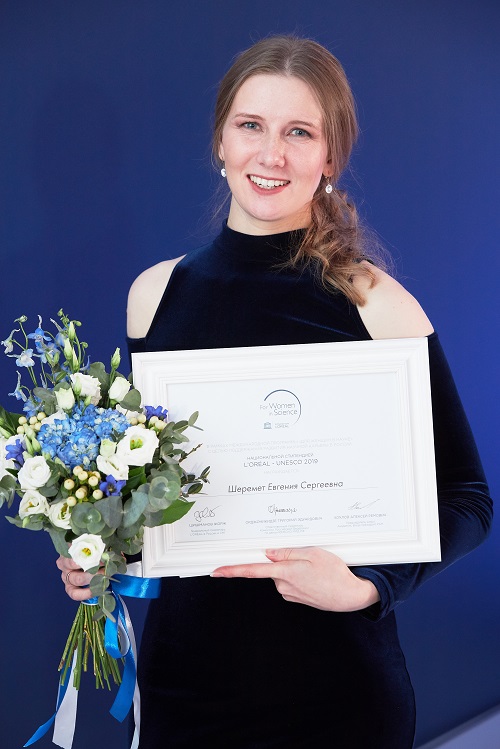 Photo: Eugenia Sheremet
An international research group at TPU headed by Raul Rodriguez, Professor of the TPU Research School of Chemical and Biomedical Technologies, and Evgeniya Sheremet, Professor of the TPU Research School of High Energy Physics, is developing a new area of optical nanospectroscopy. Along with this, they are engaged in the development of plasmon and sensor materials for biomedicine and electronics.
"We develop methods and materials to perform new measurements previously impossible such as optical properties at the nanoscale, chemical composition at ultra-low concentrations, biometric signals under complex conditions,"
— Evgeniya Sheremet says.
This year, the award committee considered 335 applications from 45 Russian cities. The award jury consists of recognized members and is chaired by Alexey Khokhlov, Vice President of the Russian Academy of Sciences, Professor, Head of the Department of Physics of Polymers and Crystals, Faculty of Physics, Lomonosov Moscow State University, academician, member of the European Academy, laureate of the State Prize of the Russian Federation in Science and Engineering. Along with Eugenia Sheremet, there are winners from Moscow, Novosibirsk, Kazan, and Vladivostok.
Reference:
Throughout the award history, 125 young women received the fellowship for development of their scientific career. Last year, Olga Gromova, Professor of the TPU Research School of High Energy Physics, won the award.