Cat, who lost four paws, got titanium prostheses implanted, based on TPU technology
Cat Dymka (Mist) who lost her four paws due to frostbite got titanium prostheses replaced in Novosibirsk, Tjournal.ru reports. A unique operation was performed by the doctors of the BEST Veterinary Clinic (Novosibirsk). The scientists of Tomsk Polytechnic University contributed by applying a calcium phosphate coating to the intraosseous implants, helping to mount them reliably and minimize infection risk. The video about the cat rehabilitation is posted on the BEST clinic channel on YouTube.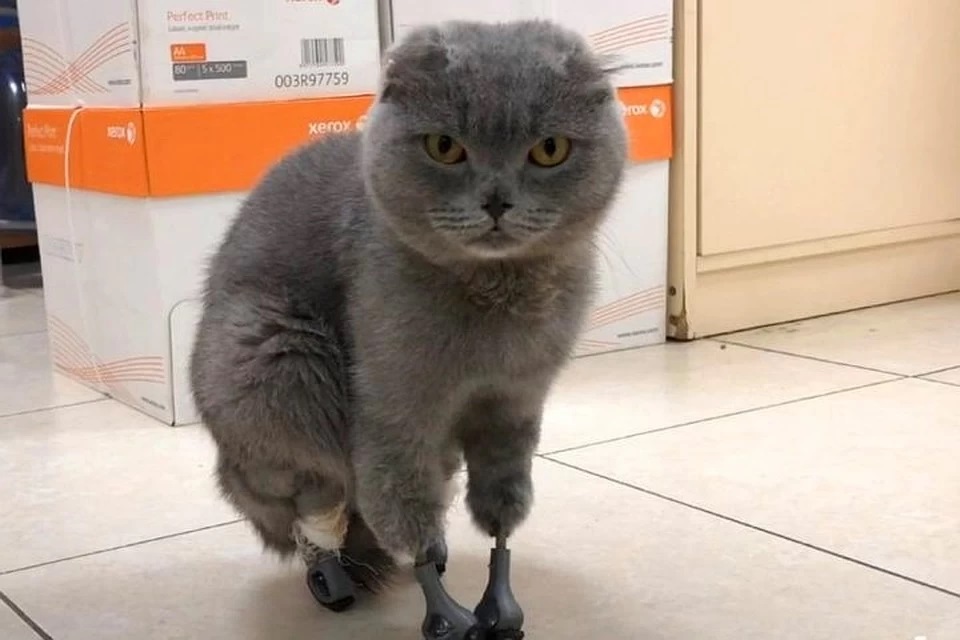 Photo: the BEST Veterinary Clinic
The BEST Clinic has been closely cooperating with TPU specialists for many years. A research team of associate Prof. Sergei Tverdokhlebov, the TPU Weinberg Research Center, developed calcium phosphate coatings for veterinary implants. These coatings have already been used in prosthetics for cats and dogs.
Due to frostbite, Dymka from Novokuznetsk lost all her paws, ears and tail. After amputation of the limbs, she was brought to Novosibirsk to give her new "paws". Before, the BEST clinic has performed a similar operation on the cat Ryzhiy (Ginger). It was the first case of mounting prostheses on all four paws. Thus, Dymka became the second cat in the world with prostheses of all four limbs. The cat's new front and rear paws have an individual model that was printed using titanium on a 3D printer.To reduce the risk of implant rejection by the cat's body, the TPU scientists applied a microactive calcium phosphate coating through micro-arc oxidation.The external parts of the prosthesis are also printed on a 3D printer and made in the shape of cat's paws.
The prosthetic care was carried out in two stages. It has been seven months since the operations. Now the cat leads a full-on life: she walks, runs, plays, and successfully overcomes stairs.