Russian Language Classes at TPU Attract over 600 International Attendees
The TPU Division for Russian Language has been giving a series of free Russian language classes for 2 weeks. More than 600 international attendees from all over the world participated in the event.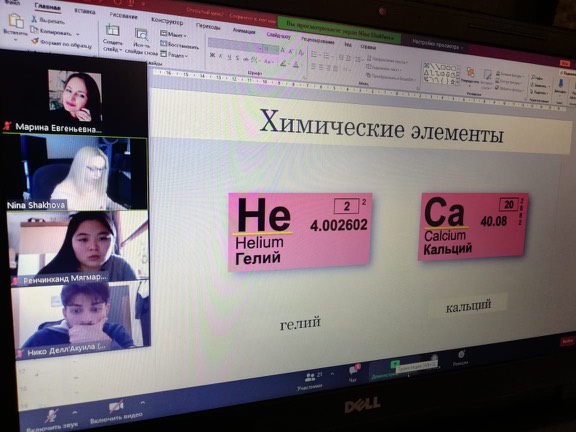 Photo: online class with international attendees

Over 600 foreign citizens interested in the Russian language and admission at Russian universities signed up for the events. The most active participants of the online events were 160 students from 17 countries, including the People`s Republic of China, Mongolia, Vietnam, Indonesia, Italy, Ecuador, Ghana, Egypt, Greece, Turkey, Canada, the Republic of South Africa, Azerbaijan, the United States of America, Romania, Japan and Serbia.
The participants of the classes together with the division professors studied the difficulties of Russian grammatical cases and communication tactics of colloquial Russian, learned how to read the names of chemical elements and reactions in Russian, as well as how to wish a Happy New Year and what to write in a New Year's card in Russian.
"Together with international students, we compared Russian and English Romanticism using the poems of Lord Byron and Mikhail Lermontov as examples and studied the symbols of Russian culture. Discussion of Russian national cuisine specialties always kindles a special interest,"
Evgeniya Sherina, Head of Division for Russian Language, says.
As part of a literary salon, the attendees experienced the beauty of Russian winter through the poetry of Nekrasov and in a scientific writing workshop they learned tips for a successful scientific report presentation. The staff of TPU Russian Language Testing Center spoke about training for the Test of Russian as a Foreign Language (TORFL-I and TORFL-II).
For Chinese students, professors spoke in Chinese about the advantages of studying at TPU, while for English-speaking students, the practical training in the Russian language was held in English.
"Since the shift to the distance-learning mode, the professors of the Division for Russian Language have learned to implement new interesting educational programs.
We adapted the structure of classes to the online learning mode so that the educational process would be not only efficient but also interesting. A Russian as a Foreign Language class is not only about vocabulary and grammar but also interactive tasks, quizzes and creative tasks.
In some ways, distance learning offers even more opportunities. The series of free classes demonstrated to the participants from all over the world that the border closure does not hinder learning a language online. We hope that all the participants of the classes will continue studying on our educational programs, but offline," Evgeniya Sherina says.
The professors of TPU Division for Russian Language are planning to continue the series of free classes of Russian as a Foreign Language in February and March 2021.