TPU Campus Receives Outdoor Library
The TPU campus has received a BookCrossing point. It is set up next to the TPU International Culture Center (13v Usov Street) and has already received the first publications. All people willing to read books and not only students and university staff can use a bookcase.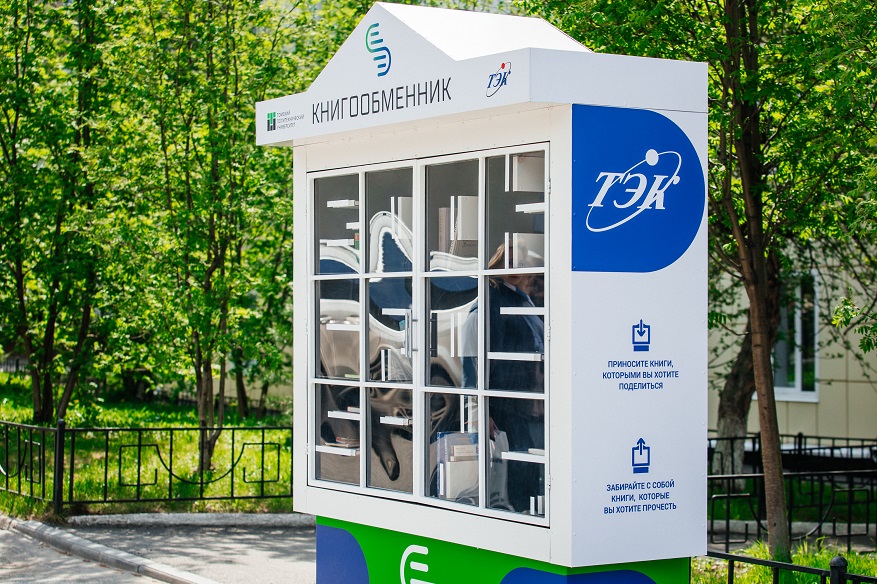 On the 125th anniversary of TPU, Tomsk Electronic Company equipped a bookcase for BookCrossing. The university turns 125 years in the Year of Science and Technology.
"Of course, 125 years is an important date. For the comparison, this year, we turn 21 years, however, we have been cooperating with TPU all this time.
Nowadays, over one third of all the company staff who obtained a higher education is TPU graduates. These are over 180 people, about 80 of them take senior positions. Annually, TPU students pass on-the-job training and a pre-graduation practice at the enterprise. On the occasion of the 125th anniversary, we made a decision to present TPU students a book gift,"
Andrey Shestakov, Director General of Tomsk Electronic Company, says.
TPU students selected the first books for BookCrossing voted for them on social media. According to their feedback, the company made a selection of modern popular-scientific and fictional works.
"At all times, a wide horizon stands out a good engineer. The TPU Library began to develop together with the university. It became the first university technical library on the territory of Siberia and the Far East. Vladimir Obruchev, an outstanding scientist and geologist, a famous science fiction writer, supervised the work of the Library during the first years of its presence. TPU students always read a lot of literature: professional and fictional. Due to the initiative of our partners, TPU students and Tomsk citizens will have an opportunity to simply and easily exchange favorite books," Mikhail Solovyov, Vice-Rector for Academic Affairs, notes.
The company plans to occasionally replenish books on the shelves of the outdoor library holding a vote on their social media.