DD High Voltage Engineering and Physics: materials for 3D printing and wood processing
Two graduates of the double master program High Voltage Engineering and Physics which is jointly run by Tomsk Polytechnic University and the University of Applied Sciences of Aachen (Germany) successfully defended their master theses. TPU students Farkhat Samarkanov and Zhanibek Akhmettaev conducted scientific research supervised by scientists of two universities, and now they will receive diplomas from both the Russian and German universities.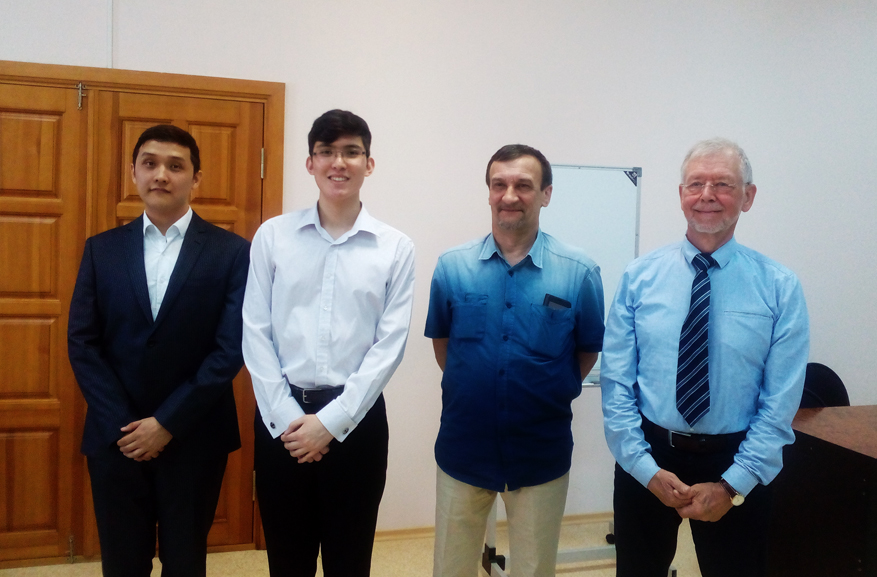 Photo: Graduates

Farkhat Samarkanov and Zhanibek Akhmettaev and their supervisors Fedor Sekisov and Prof. Burghard Mueller
The theses were evaluated by the State Attestation Commission and employer representatives. The University of Applied Sciences of Aachen was represented by Prof. Burghard Mueller, TPU was represented by the supervisor of the DD program High Energy Physics and Engineering As.Prof. Sergey Lopatkin from the Division of Materials Science, Zhanibek Akhmettaev's supervisor, the leading engineer of the Laboratory for Pulse-Beam, Electrocharge and Plasma Technologies Fedor Sekisov.
During his study, Farkhat Samarkanov investigated the patterns of obtaining nanopоwders of mixed titanium and aluminum using electrical explosion. Such techniques allows obtaining nanopowders by exploding samples of metals, in this case wires of titanium and aluminum, by means of a powerful electrical charge up to metal vapors, and further by condensing the vapors obtained into metal particles. Such powders are used in additive technologies as materials for 3D printing and sintering products of various shapes.
TPU supervisor Sergey Lopatkin notes:
'The main task was not only to obtain nanoparticles of the metal mixture one part being nanoscale and another micro-sized. Preliminary studies showed that in this case the mixture obtained is more homogeneous than that consisting of the same size particles.'
Zhanibek Akhmettaev studied the impact of electrical field on the efficiency of impregnating coniferous wood to protect it, for example, against fire, moisture, and bacteria. In fact, coniferous wood has deep spongy inclusions with resin, which is a hydrophobic substance and prevents the impregnation of wood with protective compounds.
Sergey Lopatkin says: 'To make such wood more impregnated, we decided to apply a current of low industrial frequency. During the experiments, the wood was placed in a container with a protective solution and the current passed through the electrodes. The results showed that using this method, coniferous wood is really better impregnated.'
In addition, the master graduates will be awarded diplomas of Tomsk Polytechnic University, and later of the University of Applied Sciences of Aachen after settling all necessary formalities.
DD High Voltage Engineering and Physics has been implemented since 2010, the first graduation was in 2011. Next year another three graduates will defend their theses, this September, new students will be admitted. The program implies that master students spend an academic term at the German partner university where they study in English.