TPU research team jointly with German scientists seek ways to unlock potential of senior citizens
This Wednesday, Tomsk Polytechnic University jointly with the University of Ludwigshafen am Rhein conducted an expert workshop on Institutions for Realization of Potential of Senior Citizens in Russia and Germany. Representatives of regional and municipal authorities and the Council of Tomsk Veterans discussed the issues of well-being of senior citizens and methods for their comfortable integration and involvement in society in the two countries. Prof. Krieger Wolfgang Konrad and Prof. Berkemer Andrea Esther shared with the TPU Press Office the problems German senior citizens face and what they have in common with Russian pensioners.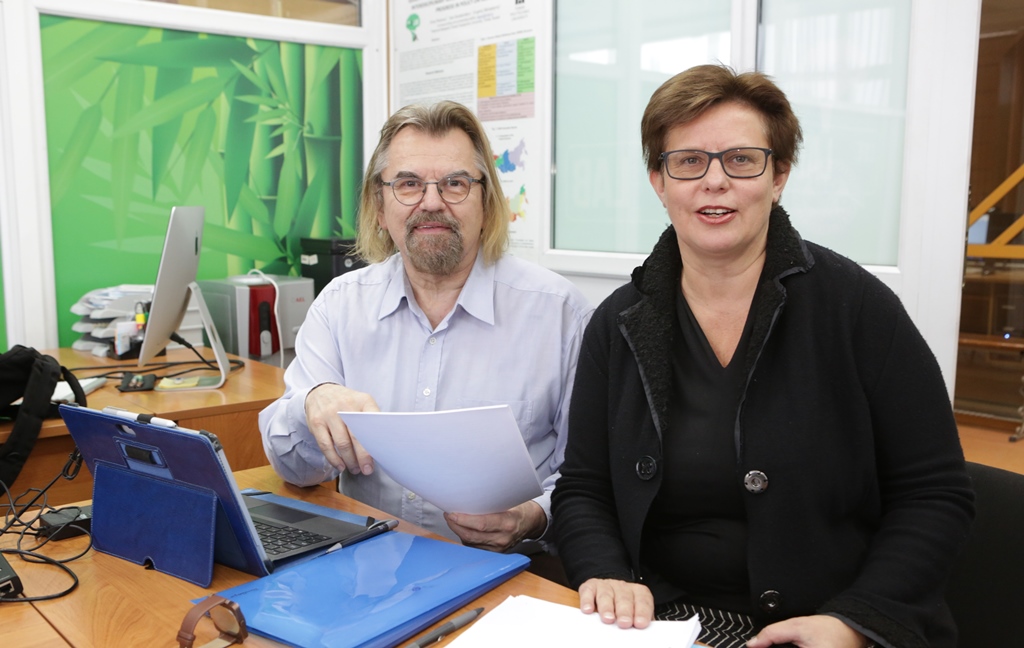 Photo: Prof. Krieger Wolfgang Konrad and Prof. Berkemer Andrea Esther
In 2014, Tomsk Polytechnic University established the International Research Laboratory for Technologies of Senior Citizens Well-Being Improvement. As part of a large-scale project supported by grants of the Russian Government and the Russian Science Foundation, the university has studied ways of improving well-being of senior citizens and issues of active longevity. A research group, headed by Prof. Galina Barysheva, the TPU School of Engineering Entrepreneurship, regularly invites international scientists to Tomsk to exchange best practices and to present a system for senior people, established in the Tomsk Region.
"There is an important reason to study this global topic related to the involvement of elderly people in social affairs and fulfillment of their resource potential. The number of senior people is increasing in the developed countries due to improved quality of life. Therefore a number of topics arise as to whatproblems they face, opportunities they have, and ways to improve and fulfill their life.
Nevertheless, there are only a few studies on this topic. US researchers are pioneers in this area, followed by Scandinavian countries, Germany, and Japan. In Germany, over the past 20 years, a lot has been done for social support of senior citizens and development of social infrastructure. However, Germany still has 'room for improvement' when it comes to elderly people. Therefore, we also have something to adopt in other countries.
We are interested in the experience of the Tomsk Region towards new social technologies implemented in remote settlements and the experience of the Tomsk Academy of Active Longevity",
— Prof. Wolfgang Krieger says.
It is not the first time he has visited the Tomsk region Last time he visited one of the nursing homes in the region. This Friday, together with his colleague, he plans to visit a social room for senior people in the Kozhevnikovsky district. "In a Tomsk nursing home I liked the organization of free time activities. Senior people have many opportunities for creativity and simple sports activities. They are not isolated and constantly communicate with each other. Everyone also has their own piece of garden to take care of," Prof. Wolfgang Krieger says.
The studies conducted by the international colleagues demonstrate that both Russian and German senior people have similar problems.
"We have a common demographic situation where senior people are increasing. We have a common problem related to their isolation from their families since children and grandchildren leave for other cities. In addition, our pensioners slowly get acquainted with modern information technology that can help them communicate with relatives.
Another problem is related to their loneliness and incomplete fulfilment when they still have a lot of strength and desire to actively participate in the life of their family and local community," Prof. Esther Berkemer notes. The German researchers highlight a specific issue of inequality between the average male and female life expectancy in Russia.
"In Russia, the average life expectancy of men is slightly lower than that of women, therefore, after the death of a partner, the issue of loneliness becomes even more acute. In Germany, it is more common to age with their spouse and this is a huge support," Prof. Esther Berkemer says.